I use affiliate links on my blog. When you click on my links, I may make a commission. Thank you!
Situated at the end of Main Street, U.S.A., Cinderella's Castle is one of the most iconic symbols of the Magic Kingdom. The 189-foot castle features pretty blue rooftops, rose-covered lawns and a real moat and this is one thing everyone wants to see on their trip to Disney World.
It serves as a backdrop for the nightly firework display at Disney World that everyone who visits the park has come to know and love. During the show, 16 million colored lights illuminate the castle in grand fashion. Keep reading, to learn more about the place Cinderella calls home and how you can take the kids to visit it when you go to Disney World.
Cinderella's Royal Table
The beautiful and extravagant Disney restaurant known as Cinderella's Royal Table is one of the most popular restaurants in all of Disney World. So popular, in fact, it's often booked solid a full six months in advance! But, don't panic! Disney's Be Our Guest restaurant is gaining in popularity, so it may make it easier to get into Cinderella's Royal Table for a meal. That being said, it is easier to book a reservation at this royal table than ever before. If you don't make a reservation, you probably won't get to eat here.
As you enter Cinderella's Castle, you'll meet the royal princess herself. You even get the opportunity to get your picture taken with her, by a professional photographer. Waiting to be seated gives you time to take in the breathtaking architecture of the castle and to meet other Disney princesses who may be visiting.
Once your table is ready, it's time to eat! Choose from a variety of courses, currently on the menu. Depending on the time of your arrival; there are breakfast, lunch or dinner menu options waiting for you. At Cinderella's Royal Table, you're definitely treated like royalty. It's a YUMMY experience you won't soon forget!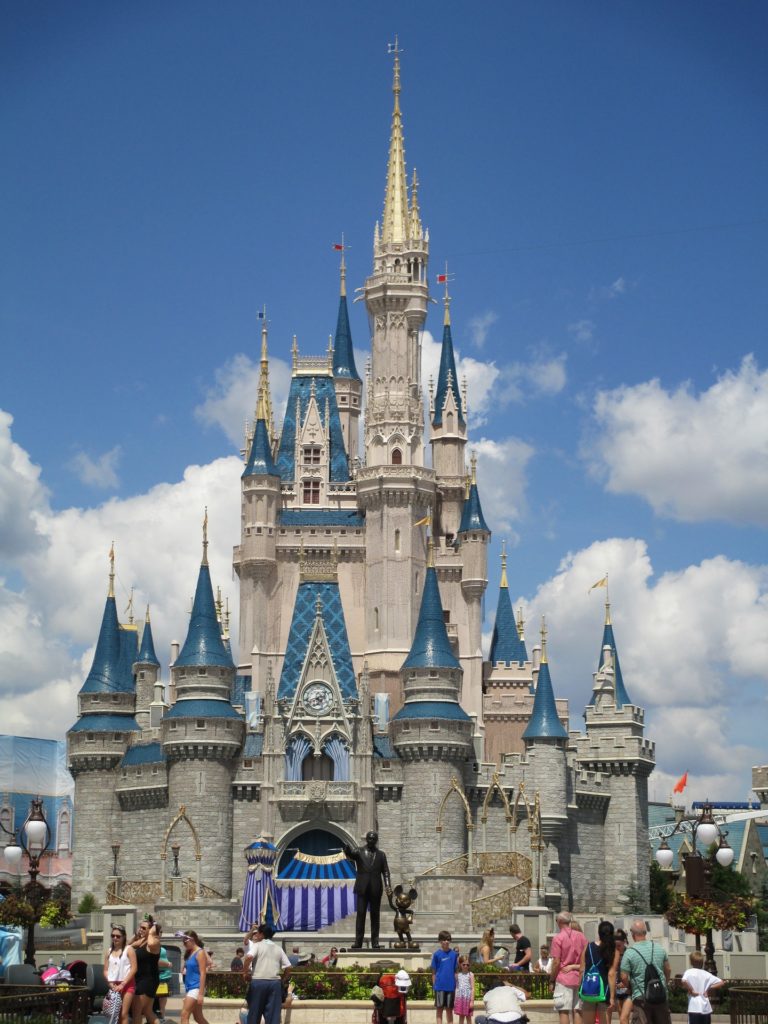 Bibbidi Bobbidi Boutique
No royal Disney experience is complete without a magical makeover at the Bibbidi Bobbidi Boutique located inside Cinderella's Castle. A reservation is required to experience this unique service. So, keep this in mind. It may make for an easier trip to book a reservation at the royal table the same time you're booking a boutique reservation.
Once inside the boutique, the little people in your life meet up with their very own Fairy Godmother-in-Training who transforms them into Disney princesses or princes! While the boutique can be quite pricey for some, there are three packages available.
At the time of this writing, prices range from as low as $60 to the most expensive package costing roughly $200. There's also an optional photo package of your child's royal transformation process.
Keep in mind that Disney has a strict age policy for their boutique, accepting children ages 3 to 12 years of age.  As long as the reservation is made when the child is 12 or under, a day at the Bibbidi Bobbidi Boutique isn't out of the question, so if they are going to turn 13 make sure you make the reservation in advance when they are still 12.
Cinderella Castle Suite
Staying at the Cinderella Castle Suite is a treat very few Disney-lovers get to experience. Honestly, it's a dream of many, though!
Before Disney World was built back in 1965, there were plans for the enchanted Cinderella Suite and it was the intended living space for Walt Disney and his family for when they would visit the park. However, Mr. Disney passed away in 1966, five years before the Magic Kingdom opened. He never even got the chance to stay there.
With the launch of Disney's Year of a Million Dreams in 2007, Disney created the Cinderella Suite and gave a few lucky prize winners a chance to stay there. Today, Disney World occasionally offers tours of the suite, which for many may be the only way to ever see the suite in person. Whether you get to tour the Cinderella Suite or you get the rare opportunity to stay there, everyone agrees it's a life-changing experience!
This is just a brief overview of some of the things you'll find inside Cinderella's Castle. No trip to Disney World is complete without taking the time to visit. Cinderella is waiting!