I use affiliate links on my blog. When you click on my links, I may make a commission. Thank you!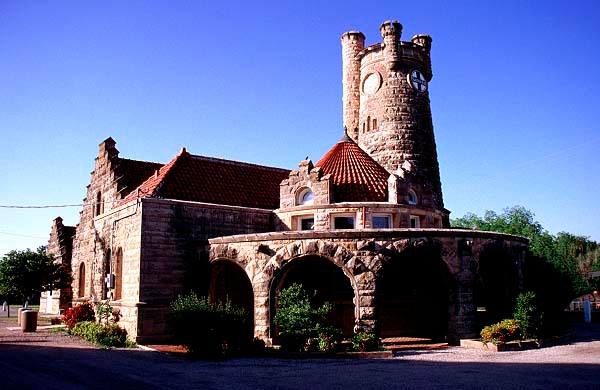 Shawnee is by no means a big town in Oklahoma. Despite that, you and your family can have a "big time" there. Conveniently located off I-40, Shawnee is about 40 miles east of Oklahoma City. It is just far enough off the beaten path to be considered a hidden Oklahoma jewel, but close enough to both Oklahoma City and a major highway to be easily found. There is a lot to do in Shawnee surprisingly.
When embarking on a new travel adventure, it is always a good idea to get a sense of the history of your destination. The Pottawatomie County Museum is the best place to do that. It is located at 614 East Main Street, just east of the downtown area.
While at the Pottawatomie County Museum, walk through and take in all the sites. The model train is gorgeous. There is also an exhibit of antique household items such as oil lamps, china and clocks. Be sure to linger at the exhibit displaying the old photographs of Shawnee and its residents. Of course, there is a special rack that is home to books by Oklahoma authors.
Seeing you are already so close to downtown, you might as well pop in there and see what is going on. It is a great place to go shopping. There are several antique shops and even an art gallery. Several of the shops have authentic Native American items such as jewelry and artwork. The art gallery showcases several local artists as well as more famous artists.
The tribe also has several places that they own to visit such as their bowling alley. They also have a nice sports complex you can catch a game at while you are in Shawnee.
While in Shawnee, you will get hungry. There are dozens of restaurants you will enjoy, serving all sorts of different types of food. For down-home, "Okie food," it would be hard to beat Boomerang. Boomerang serves breakfast all day. They even have an all-you-can-eat catfish special every Friday night. Bricktown Brewery is another great spot to eat. They say "burgers and bacon are part of their DNA" and it is true. Try the bacon-wrapped meatloaf – it is the bomb. Sunny Side Up is probably the best restaurant in town. They have the best coffee and biscuits and gravy in town. Their omelets are pretty terrific too. The service is excellent as well. Pop into Sunny Side Up, if for no other reason than a cup of coffee and a smile.
Shawnee is also home to the Mabee-Gerrer Art Museum. They have several different collections even the most luke-warm art museum visitor will enjoy. The Modern and Contemporary Art collection has several paintings everyone will enjoy. Pottery and other forms of art can be seen. The Asian Art collection showcases artwork from the Shang Dynasty. The bronze and terra cotta figurines are gorgeous. The Mabee-Gerrer Art Museum also has Native American and American artwork dating from pre-historical pieces to modern art.
Shawnee is a great place to visit. Whether it is the history and art museums, shopping downtown or eating in one of the many restaurants, there is something for everyone. Take that short drive down I-40 from Oklahoma City and see all there is to be seen in Shawnee. You won't be disappointed. While in Oklahoma, also make sure to check out the things to do in Enid, Oklahoma.