I use affiliate links on my blog. When you click on my links, I may make a commission. Thank you!
When you plan a Disney vacation, it can be a bit confusing on what all you should purchase with your package. Disney resort guests have the option of purchasing the Disney Dining Plan as part of their vacation package. It consists of credits, used instead of cash or credit cards, to buy meals. Some people love it, but some people hate it. If you plan on taking advantage of the DDP, consider these tips provided to help you get the most out of it. You can also purchase a few things before your trip that can help you save money while at Disney.
Choose the Expensive Options
Costs vary on the majority of the food items served at restaurants in all Disney park locations. But, I have great news! A lot of the more expensive entrees in these eateries only count as one meal when you go with the dining plan. So, it makes total sense to order high-priced dishes as often as you can to get the best value. This applies to both the quick service food locations and table service restaurants.
Visit during a Free Dining Promotional Period
Occasionally, during the off-season, Disney runs a free dining promo. Simply book your accommodations at any Disney resort hotel within the specified timeframe (for a certain number of nights) to be eligible. This can save you a ton of money on your Disney trip.
Buy a Refillable Mug
When you stay at a Disney resort, buy a refillable mug for everyone. This way, you get unlimited fill-ups whenever you're on resort premises. Honestly, this saves you a boatload of money! Many guests decide not to take advantage of this because you can't refill the mug in the park. However, that doesn't stop you from enjoying free drinks for the duration of your time at the actual hotel.
This unlimited drink option allows you to substitute the drink with your quick-service meal for another side or dessert. You probably don't need two beverages, right? Also, while you can't refill these mugs in the park, you can still take them with you. So in theory, you can fill up in the morning, before heading off to the park. Then, if you decide to eat lunch back at the hotel, simply refill again and you're good to go.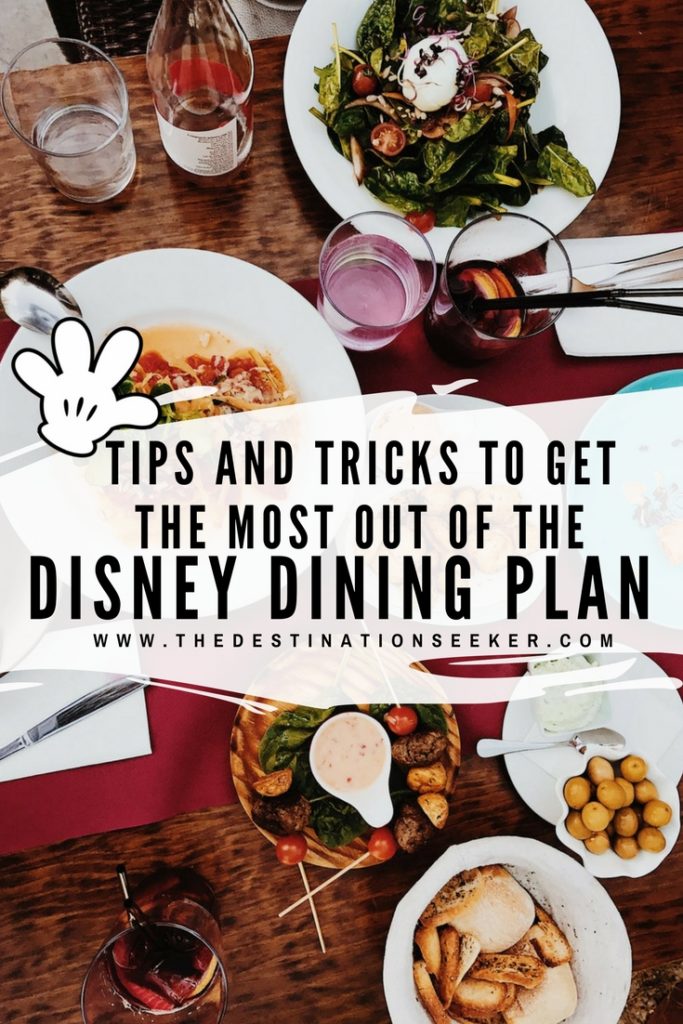 Eat What You Want
The Disney Dining Plan isn't restrictive at all. You're totally allowed to substitute sides, desserts, and drinks for other options with quick service or table service meals. For example, if you substitute your dessert for another side, you can split a quick-service (or table service) meal between two people and save the second credit for later. You can also ditch the side for a second drink so you have something to take with you while strolling around the park. These options make the DDP a great way to go.
Ask For Free Ice Water
It's never EVER worth it to use one of your quick service credits to get bottled water. Why? Ice water is free at any of the quick-service food locations in the park. Make sure you take advantage of this, especially during hot weather. It's important to stay well-hydrated throughout the day and there's absolutely no reason to waste credits on a bottle of water instead.
Don't Use Credits for Breakfast
Of course, this isn't a set-in-stone rule. But, since breakfast never includes dessert, it's advisable to save your credits for lunch and dinner… unless, of course, you're anti-dessert! You can get a cheap breakfast or even keep things in the room for this and save money that way.
These are just a few (of many) tips and tricks to get the most out of the Disney Dining Plan. Word has it that if you intend to eat more than $60 worth of food per day, it's definitely for you!