I use affiliate links on my blog. When you click on my links, I may make a commission. Thank you!
Ever imaging living in a world of ice? The Ice Hotel is the magical place where you can sleep on beds of ice surrounded by original ice sculptures and hand-crafted ice rooms. They are now celebrating their 30-year anniversary. Isn't time you enjoyed this winter wonderland?
The Ice Hotel is essentially a giant igloo with a little wintery village around it. This is the land of the Aurora Borealis and 24-hours of winter darkness. That is because this unique hotel is located 90 miles north of the Arctic Circle in a village called Jukkasjärvi, right on the Torne River. Jukkasjärvi is Sami for "meeting place by the water." For hundreds of years, this was a trading post area where villagers met. That river, with pure water, is what supplies the ice for the magnificent Ice Hotel, Ice Bar, ice plates and glasses.
The Ice Rooms
There are a variety of ice rooms at the Ice Hotel. First, there are basic ice rooms, with led lights mimicking the northern lights. Many of these rooms are wheelchair accessible. Next, there are the suites. These artist-designed rooms are more ornate with sculptures and a magical theme. Don't expect to see the average ice carving you may see at an ordinary ice carnival! Again, these are one-of-a-kind designs that only last the few months of winter, before they melt back into the Torne river.
In the spring, close to 200 different artists submit their drawings and ideas. From there, the Ice Hotel selects the room designs they want built. About half of the artists designed rooms in previous years. They all come up to Jukkasjärvi in November and spend about two weeks building their rooms. The experienced artists assist the newbies in full collaboration.
The artists are allowed to use ice, snice–which is a mixture of snow and ice, and snow in their whimsical designs. They use a variety of electric and hand tools to build the rooms and create their design. How they build each room is based on the design. Some rooms are filled with snow, and the artist dig out their design. Other rooms are empty, and ice blocks and carvings are added. Not all of the artists specialize in working with ice. Some of the artists design video games or specialize in other mediums. These different perceptions of a what an ice room should look like is why the Ice Hotel is renowned for their unique, breathtaking designs. Of course, there are many imitators, but the Ice Hotel is the original.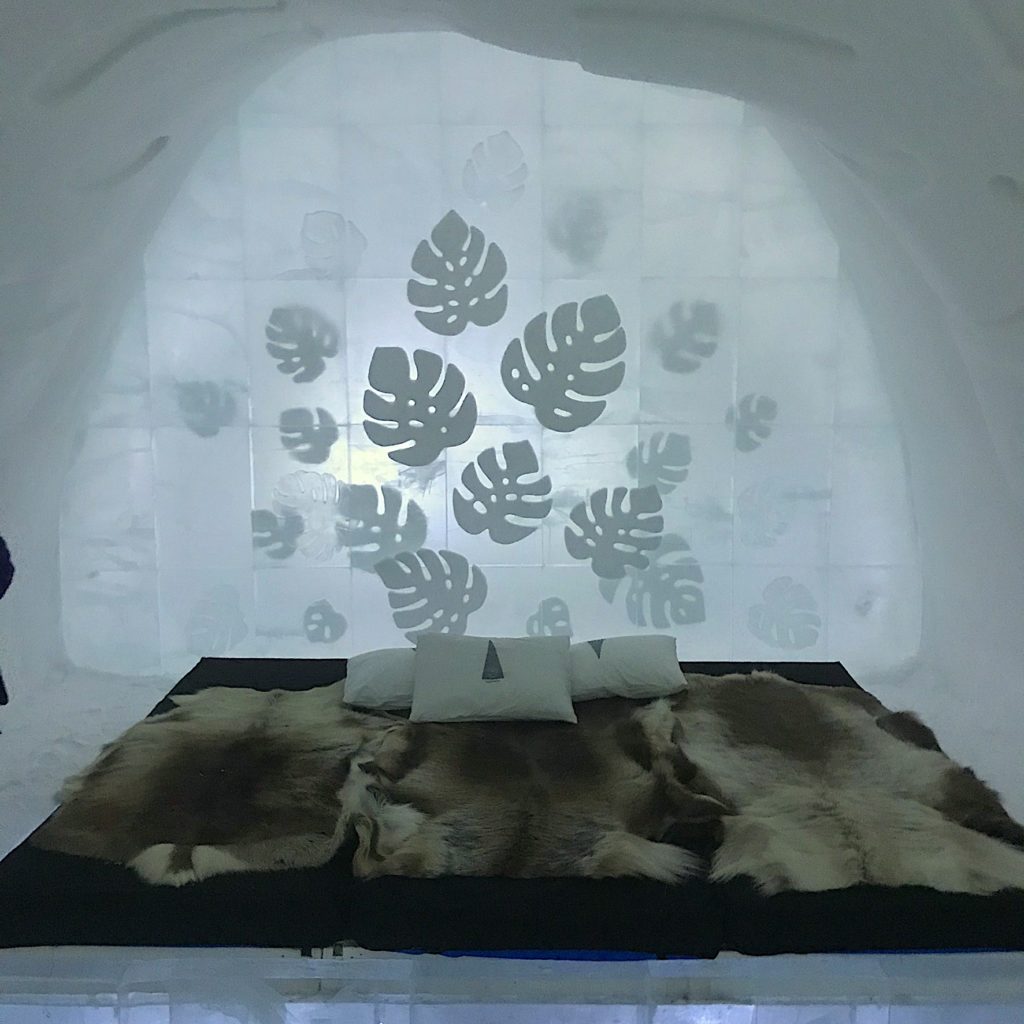 Ice Hotel 365
Although the Ice Hotel started out as a winter destination, the sustainable 365 is a way for guests to visit the frozen Jukkasjärvi rooms when there is midnight sun and white water rafting on the Torne River. There is a lot of untamed wilderness in this part of Sweden, so many visitors enjoy taking the optional wilderness safari tours. Many guests wish for their opportunity to be immersed in nature, far from the noise of the city.
This new part of the hotel is adjacent to the original. In the winter, 365 is part of one big ice village.  In the summer, it is a normal looking building that is totally frozen inside. It is fully sustained by solar panels. This makes sense as the sun doesn't go down in the summer in this northerly part of Sweden.
The Ice Hotel 365 has 55 ice rooms to stay in and to visit. This includes regular rooms, suites and deluxe suites. The difference between the suites and the deluxe suites is that the upscale deluxe suites will include a private bathroom and sauna, and maybe even a second room with an ice table and chairs or sofa.
Sleeping At The Ice Hotel
One of the biggest thrills of staying at the Ice Hotel is sleeping on a bed of ice. This means snoozing in a chilly 23F temperatures.  The hotel provides a warm snowmobile suit and sleeping bag for the extreme cold. Guests sleep on top of reindeer skins and a soft mattress, so they are both comfy and cozy warm.
After their refreshing night sleeping in the ice, guests are ushered to an adjacent warm building called the Dressing Room. This building, which is open 24-hours a day, offers storage lockers for guests, as well as dressing rooms, showers and saunas.
If you need some quiet time, there is  is large open area with cozy sofas around the fireplace. Here, guests can enjoy a cup of warm lingonberry juice as they silently reflect, or update their social media. Afterwards, guests can warm up in the sauna for a therapeutic ritual. Of course, this is a centuries old tradition in Swedish Lapland.
Activities
Activities are available for an added cost. The price of each excursion includes snowsuits, gloves and boots.
Ice sculpting – The incredible ice art may make you feel inspired to try it yourself! Each two and a half hour class is held adjacent to the Ice Bar, at a cost of  795 SEK per person. The price includes instruction and warm clothes to wear during your creative journey.
Snowmobiling – Two-hour tours cost 1395 SEK per person. There is also a six-hour Wildlife Safari snowmobile tour. Venture further into the wilderness to find moose, Arctic Hare, Arctic Fox, and reindeer. This costs 2,750 SEK per person.
Moose Safari on Horseback – Head out into the forest on your trusty steed in search of the Swedish moose. Other wildlife you may see in the Arctic tundra may include the Arctic Hare, the Arctic Fox and even small groups of reindeer. There is a three-course lunch over the fire on this full-day adventure.  Tickets are 2,195 SEK per person.
Dog Sledding – There is a variety of dogsledding tours available at the Ice Hotel. You can take a dogsledding transfer from the Kiruna airport to the Ice Hotel for 6,695 per sled. Prices start at 1,400 SEK for a few hours to an overnight adventure, at 6,695 SEK per person.
Northern Lights – If seeing the Aurora Borealis is on your bucket list, there are many tour options to enjoy them in your own way. There is even one on horseback, one specially made for photographers and a Northern Lights trip on snowmobiles. The prices of these tours can range from 1,045 SEK to 2,195 SEK. Seeing the lights in person is a priceless memory
Facilities
The famed Ice Hotel restaurant is located across the street from the main building. They serve three meals a day including a Scandinavian breakfast buffet, lunch buffet and chef-cooked Nordic gourmet dinners. There are two dinner sittings. Dinner is exceptional, and very popular. Guests should make reservations in advance.
In the main dining room, there is a selection of meals, many which are local foods. This includes reindeer, moose and Arctic char. They offer a five-course meal all served on ice plates. In addition, they also offer a 12-course, chef's meal served in the veranda.
Of course, you must visit the world famous Ice Bar. Here you can sit back in a frozen room and sip hot cocoa, lingonberry juice or specially designed drinks named after the 365 rooms. This is a fun atmosphere where guests from all over the world congregate and enjoy libations in the frosty atmosphere.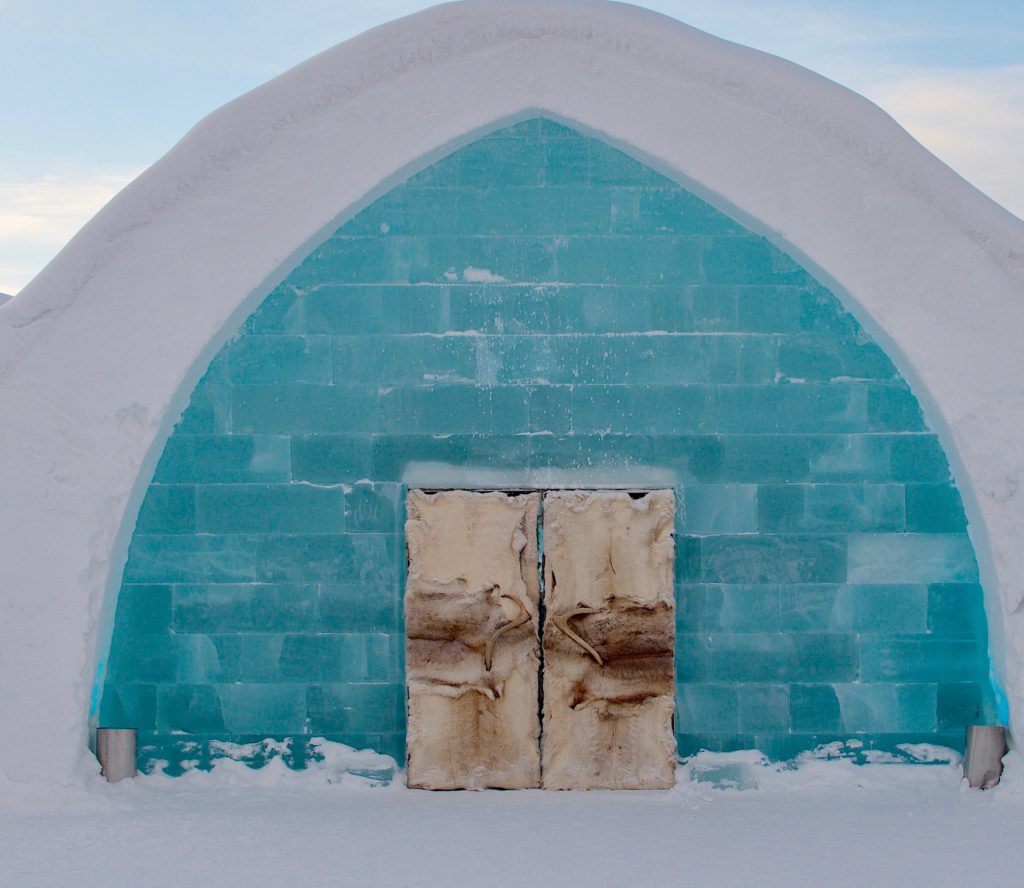 Price
Staying at the Ice Hotel can start at 4,000 SEK for a basic cold room. Next, the rooms with artwork start at 5,400 SEK and go up to 12,000 SEK. Moreover, warm rooms start at 2,000 SEK. Of course, some guests may only want to stay in a cold room one night or don't want that particular experience. There are warm 2-bedroom cabins adjacent to the frozen rooms and suites, and more single and double rooms at the main check in area building.  The cabins have kitchenettes with a mini-fridge, stovetop, microwave, electric tea kettle, plates and silverware.  This is especially convenient for families.
Guests staying for longer than one evening often choose to stay in a cold room one night, and spend their remaining nights in the warm rooms. There are so many activities in Swedish Lapland that staying for multiple days is an ideal way to spend your holiday and take advantage of the ample wilderness and plentiful snow.
Finally, the hotel room price includes a full Scandinavian breakfast and guided tours in English. The informative tour guides share the history of this magical ice paradise, and give some interesting facts and tidbits. The tour includes both the Ice Hotel and 365, which is where the Ice Bar is conveniently located.
Getting To The Ice Hotel
There are several options of getting to the Ice Hotel.  You can book a 16-hour, overnight train trip from Stockholm to Kiruna, which is 15 kilometers from the Ice Hotel. There are several flight options you can choose from. First, you can fly from Stockholm to Kiruna. Should those fights be overbook, the next option is to fly to Luleå. Next, you take 4-hour train or 4.5 hour bus trip to Kiruna.
From the Kiruna airport, there are a cornucopia of options to get to Jukkasjärvi. You can pay for a shuttle ride from the Ice Hotel, take a cab or if you feel ready to embrace your inner snow bunny, you can take a dog sled ride from the Kiruna airport to Jukkasjärvi.