I use affiliate links on my blog. When you click on my links, I may make a commission. Thank you!
There's a lot of reasons why nearly a million people follow Noraly's Itchy Boots travel vlog on YouTube. If you love off-road bikes, trail riding, adventure, and hanker to see the world, you'll probably love watching as well. Right now, you possibly hanker for travel adventures, but perhaps you are stuck with lockdowns or fear of COVID-19. Well, impressive Noraly decided to travel the world, so she quit her job and explored parts of North America, India, and Africa, all alone.
The Itchy Boots traveler just completed a Southern African tour
Noraly probably didn't have much time for relaxing in the warm African weather. So, she probably ditched the idea of lazy days next to sumptuous safari pools reading books. However, we're willing to bet that she studied up on some motorcycle maintenance manuals. Hailing from The Netherlands, her YouTube bio explains how she set off and explored the world alone. And, thanks to her regular updates on her vlog, plenty of people followed her along. This week, they saw her exit Zimbabwe after she visited Namibia and Botswana.
The Itchy Boots vlogger probably skipped places like New Zealand as just plain too safe! Clearly, the adrenalin lover gets her kicks elsewhere, in the real world, where she fearlessly drives her bikes into the unknown. Her bio explains, "I'm passionate about motorbikes and solo adventures around the world. I quit my job, sold my stuff and now I'm traveling the world fulltime by motorcycle." And, there's nothing humdrum about the way she lived since the advent of the coronavirus.
Itchy Boots vlogger is a woman all alone on her adventures
Noraly toured Peru but in March 2020, when the lockdowns started, she was forced to abandon her trip. Not fussed, she went to India and toured around on a Royal Enfield Himalayan. Next, she flew out to Africa and bought a Honda trail bike which she named Savannah. Oh, and did we mention places like Iran, the Far East, and Alaska? Fans follow her adventures with astonishment. However, those who never travel to way out places can learn a lot from her. Somehow, she talks her way through difficult times and courageously battles some of the most difficult roads on the planet.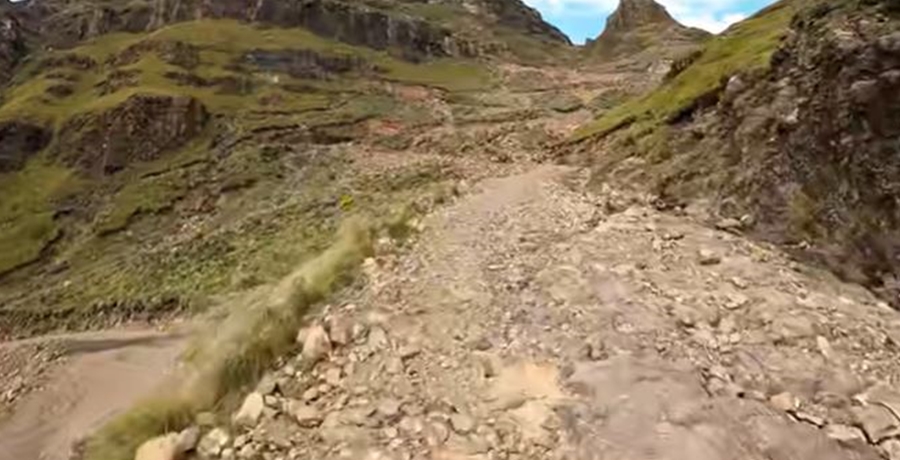 James C. Burchill on Medium notes that the Itchy Boots vlogger became so popular on YouTube, that her many "subscribers afford Noraly a unique nomadic lifestyle — that of the perpetual motorcycle explorer." Her most recent adventures in Africa revealed that she encountered beautiful scenery, hostile conditions, and plenty of wild animals. Actually, many fans noticed how she so politely dealt with officialdom on the continent.
Of course, she also learned that sometimes you can sweet-talk your way through the law. However, other times, even she drew the line at testing her theory.
Bored with COVID-19?
Sick and tired of being cooped up working from home? Or even worse, wearing masks all day in a dull job? Well, you might wish that you could take off like Noraly as well. In Namibia, she hunted for gemstones, encountered a sandstorm, and found some desert elephants. Much more came about Nambia in Noraly's travel vlog. For example, she explored the infamous Skeleton Coast all alone. Riding through the desert along the edge of the Atlantic ocean, she probably cast her mind back to when sailing ships so often foundered and sank so far from home.
Moving on into Zimbabwe, the Itchy Boots traveler vlogger took the only border post open for non-Zimbabwean travelers. That meant a long drive to the Kazungula border post. There, she needed her vaccination and a COVID test. Crossing the border she soon hit the road to the famous Victoria Falls and encountered many wild animals. When police officers asked her if she feared for her safety, she said "no." However, she sounded a bit nervous when she encountered some rather large warthogs (similar to wild pigs).
Mozambique gets the thumbs-down
Next, Noraly took off around Zimbabwe exploring it on her faithful Honda, Savannah. Going up north and east to the mountains where beautiful tea estates line horrendous roads, she stayed in quaint BNBs. Finally, she made her way back down to the famous Zimbabwe Ruins in the Lowveld before heading back to South Africa. Even then, she took a chance that the very busy border post at Beitbridge might be open for travelers. The country closed its borders during the third wave of the virus. However, she got lucky there as well.
Even the intrepid Itchy Boots traveler decided to skip neighboring Mozambique for a very good reason. Nervous about the jihadi operating in the north of the country, she wisely gave it the thumbs-down. Actually, it's a bit of a pity. One day, perhaps fans will see the woman alone exploring the southern beaches, drinking Portuguese wine, and enjoying a very different mix of African culture.
What are your thoughts about Noraly from The Netherlands exploring the world on her bike, all alone, during COVID-19? Sound off your thoughts in the comments below.
Be sure to catch up on everything happening involving travel right now. Come back here often for more adventures during COVID-19 like Noraly from Itchy Boots.