I use affiliate links on my blog. When you click on my links, I may make a commission. Thank you!
Marloth Park in South Africa brings an unusual township area. The small settlement, managed by a municipality and landowners, makes up a wildlife conservancy area. In fact, the wild area encompasses the fenced-off Lionspruit Game Reserve. Plus, it overlooks the Kruger National Park on the Crocodile River. Among the greenbelts and housing stands, many homes rent out as self-catering accommodation. In this article, we review a six-person unit named Ngululu.
Marloth Park attractions
Free-roaming animals make the place an attractive destination. However, large and very dangerous animals such as elephants, buffalo, lion, and rhino remain outside the housing areas. But, within the town and surrounds itself, other animals freely wander around. Entertainingly, Impala, Gnu (wildebeest), Giraffe, Zebra, and others regularly visit people in their camps. There, provided they obtain only approved food, the animals come for tidbits. In fact, one of the stores in the town supplies these pellets.
Guests enjoy cycling, walking, and driving without any fences between them and the wildlife. In fact, Marloth Park overlooks the Kruger National Park. There, guests in the town may sometimes see the Big 5 just cross the fence. And, the Aamazing River View Restaurant offers a good view without any fence in the way. So, the destination retains its popularity with local families and international tourists. Within the area, a range of homes provide accommodation options.
Ngululu review – a six-person home in Klipspringer Road
At the moment, nobody built on one side of the house. On the left-hand side, a quiet home seems very unobtrusive. And, across the green belt in front, a well-screened home peeps out the bushes. But, the area's quiet and the animals plentiful. Booking in, guests proceed to a security office nearby and collect the keys. For your convenience and safety, the property's alarmed and comes with a reaction unit service. Plus, the security company provides contacts for local emergency services and a doctor.
Ngululu presents a neat aspect upon arrival. And, on the side facing the Marloth Park green belt, the beautiful setting strikes one straight away. There, the open-plan dining area leads through the sitting area, onto the patio. Outside, a lovely big wooden table sits conveniently next to a cool, blue plunge pool. Actually, we spent most of our time out there under the cool thatch. Sleeping six people, ample room exists for a party of six. On the ground floor, two bedrooms contain double beds. Upstairs, a large open-plan sleeping area contains a comfortable double bed and a single bed.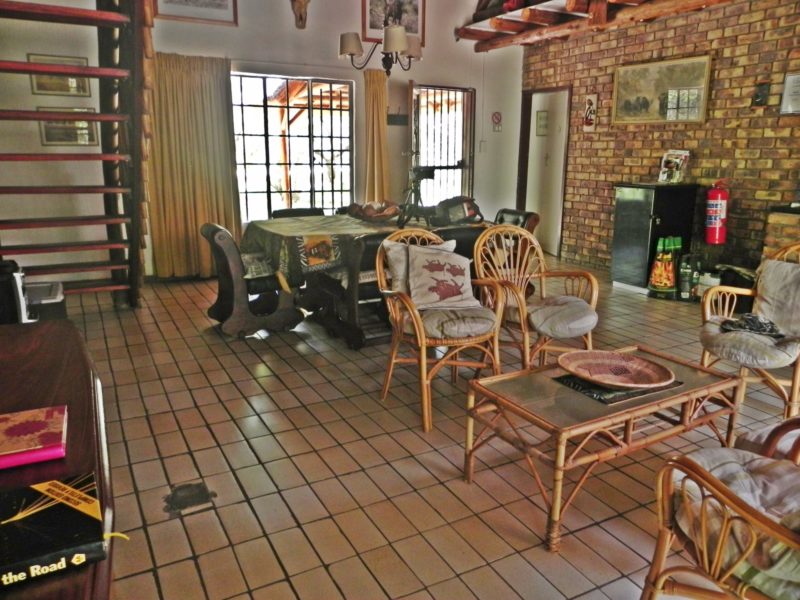 Kitchen utilities and bathrooms
Between the sitting room area and the kitchen, a useful counter contains complimentary insect repellants. Inside the cupboards, guests find plenty of pots, cooking utensils, garbage bags, glasses, and other necessities. A four-plate gas stove/oven and a microwave provide a place to prepare meals.
Gas-heated water supplies the double sink. A specially fitted tap supplies filtered drinking water into the kitchen. And, the fridge-freezer takes pride of place. Providing you keep the doors closed when not necessary, everything stays fresh or frozen. A useful addition, the dishwasher helps lessen kitchen chores. Cleaning services may be requested at an additional charge per day.
Downstairs, a neat and functional bathroom prides a shower, shelving, a washbasin, and a toilet. Upstairs, off the open-plan sleeping area, one finds a trellis door that leads to an upstairs deck. Quaintly, and beautifully rustic, behind wooden slats, under the thatch another shower provides a safe but different loo-with-a-view. The loo situated upstairs makes for convenience, as across from the sleeping area, a bar, entertainment area, and deck attracts guests.
Entertainment and animal feeding stations
Maroth Park animals provide the biggest attraction. Upstairs on the viewing decks, small wooden boxes provide homes for local bush-babies. After dark, they come out and love a bit of apple or banana. Fun, the amusing little animals spring all over the place, entertaining everyone. Additionally, the upstairs area also brings satellite television and comfortable chairs.
Down in the living area, a cabinet contains cards, board games, puzzles, and books. Plus, a DVD player and music center provide more entertainment. Outside, on the ground floor, next to the table under the gazebo, a feeding station attracts all sorts of wild animals. Usefully, a low wooden fence structure keeps the animals from invading your space. And, bear in mind these animals are not pets. But, smaller animals like banded mongooses slip between the fence posts to ferret around the bird feeding station.
The gazebo next to the pool and feeding station
The ambiance of Marloth Park in summer brings hot, sultry and glorious days. Equipped with a water vacuum (creepy crawly), the plunge pool auto cleans daily. With step access, a sloping floor, and rising to adult chest-height, the pool provides safe bathing for the family. Sometimes, the Kudu and other antelope even slurp a bit of water while you actually swim.
For colder nights, near the pool, a special area provides a place to build a campfire, and seating where you can enjoy the time under the stars. Preinstalled, a  BBQ also brings the convenience and fun of outdoor cooking. Usefully, the gazebo provides yellow and blue lighting at night. This means fewer insects buzzing around.
Ngululu Pros
The price for Ngululu in season in 2019 comes out at R950.00 (66 USD) for the whole house. Do the sums, if six people make up your party, that equates to R158 (12 USD) per person per night. In comparison to the three-bedder cottages and bungalows in the nearby Kruger National Park Crocodile Rest Camp, that's a very good price. And, they often run out- of-season specials in Marloth Park.
Comfortably furnished and a well-equipped entertainment area makes this good value. Not super-luxury, everything you need is adequate. Overall, we found the stay convenient and very relaxing. Conveniently, nearby shopping centers, bars, and restaurants helped stretch the groceries over our week-long stay. On occasion,  power outages mean a few hours of darkness, but lamps on hand offset that.
Definitely, the ability to opt to walk, drive, or cycle through Marloth Park makes this place attractive. And, a short ten to 15-minute stroll from the house takes you to the main Crocodile River. There, we enjoyed walking from bench to bench along the boundary fence.
As keen photographers, we loved the table set up so close to the animals' feeding station. Nice close-up photo ops present themselves without the need for any expensive zoom lenses.
Ngululu Cons
Kitchen cleaning fluids and bathroom essentials don't feature in the cost. Mind you, they do provide toilet rolls. So, take all your personal soap, toothpaste and essential cleaning liquids. Note, you should take along your own towels. Notably, though, they provide bed linen and dishcloths.
The upstairs area and the viewing platforms really look very nice. But, a steep stairway makes it somewhat impractical. People with disabilities or the elderly may encounter problems getting up there.
Another con to Ngululu involves the heat. Actually, each bedroom and the upstairs entertainment area come fitted with overhead fans. But, they can't cope with the summer heat. A free-standing one in the sitting area downstairs works more efficiently. Possibly, extra free-stand fans would help with that.  Notably, the place does not come with air-conditioning. Also, a few extra plug points in the rooms could make it easier for charging cameras and phones.
The doors to the outside viewing platforms could use some maintenance. Sometimes, the locks seem a bit tricky. And, another maintenance requirement involves the downstairs bedrooms. There, the insect netting pulled away in some places, making it impossible to open the windows at night.
Unfortunately, no free Wifi or routers come with your rental. But, local network providers like Vodacom mean you can connect at your own cost.
Overall impressions of Ngululu in Marloth Park
Overall, our experience at Ngululu really exceeded our expectations. Generally attractive, relaxing, and private, we thoroughly enjoyed our stay. Definitely, minor maintenance could be a bit more thorough. But this never distracted from our enjoyment for long. Conveniently, the host lives nearby, further down the road, but grants you all the privacy you may require. However, a call to them brings a quick response if you need help.
Would we recommend Ngululu lodge in Marloth Park?
From Zambia to Mozambique, Lesotho, Malawi, South Africa, Namibia, and Botswana, we personally stayed in many places. Actually, these ranged from 5-star luxury to rustic bush camps, BnB's and campsites. Ngululu's not a five-star luxury home, and it's not priced for that anyway. But certainly, we plan a return trip in the near future. You can find out directions, costs, and maps on this link. (Please note that prices may differ from this article).
Remember to check back with The Destination Seeker often for more news and reviews from Africa and  Marloth Park.