I use affiliate links on my blog. When you click on my links, I may make a commission. Thank you!
When in Las Vegas, there are so many different buffets to choose from and sometimes they are pretty pricey. On our last trip in 2018, we stayed at the MGM Grand and checked out their brunch buffet. The dress code is casual and it is just a simple sit down dining area. If you are looking for somewhere quick to eat, that will still have great food, then this could be perfect for you.
The MGM Grand Buffet Brunch has lunch and breakfast food both available. I loved this because my husband was able to get his breakfast food and I picked lunch choices for mine. The MGM Grand Buffet Brunch has different prices depending on the time. When we went it was around $34.95 each. That is a pretty expensive meal to me for a buffet and when I am in Las Vegas I like to try and budget our meals so that we can spend more cash doing fun things. The thing is most of the buffets in Las Vegas are just as expensive.
As you walk in, you will notice several rows of food available. You can choose from making your own salad, making tacos or nachos or just grabbing a plate of chicken and veggies. The MGM Grand Buffet had a ton of options available. They also have fountain drinks available that you can get yourself and refill. They had great service, but they were not required to get your drinks for you.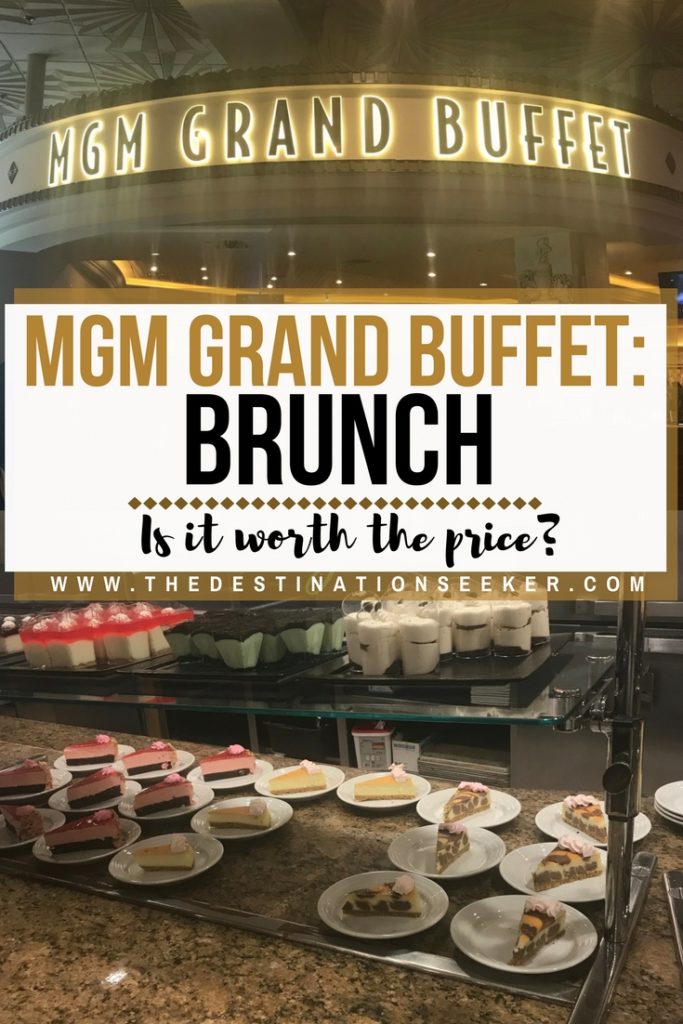 They offered omelets made to order, waffles, bacon and more breakfast favorites. You could also choose ribs, potatoes and various breads. They have an entire dessert bar, but sadly we were disappointed with it. The dessert looked amazing, but we picked up several different things to try and none of them were great enough that we ate more than one bite of it. The dessert was the only food that we didn't enjoy.
With the price of the MGM Grand Buffet Brunch, you get your meal, but they also offer Mimosas and champagne. If you enjoy these drinks, that can help make the price better, but I am not a champagne drinker so that didn't help me out at all. You can also get other alcohol at an additional charge.
Personally, I wouldn't spend around $35 for a buffet like this one. They had a lot of options, but none of the food was fantastic and when you consider the other options in Las Vegas make sure you find another one. Now, if you can pull off a free buffet or discount with your room or package, then it was great food for that price! I am not saying that we would run straight to the MGM Grand Buffet for brunch next time we are in Las Vegas, but if we stayed there I would be willing to check it out again for one of our meals.
If you are looking for cheap food while staying at the MGM Grand, make sure you check out their food court. They have several options including tacos, pizza and of course, lots of alcohol at an affordable price.