I use affiliate links on my blog. When you click on my links, I may make a commission. Thank you!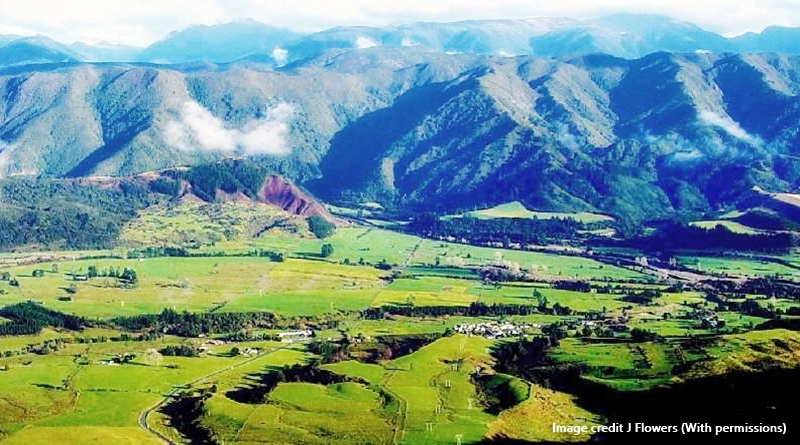 New Zealand – Top of the South Island – Takaka, a gorgeous secret valley town
Most people who drive around the Top of the South Island usually set off into the region from Nelson. The attractive city lies across the Tasman Bay from Motueka, Marahau, and quaint towns with names like Riwaka. Many visitors drive across the beautiful edge of the coast through Motueka, and on up to Marahau. From there, they can explore the Abel Tasman Park by foot and by water taxi. Some of them go up as far as the top corner of Golden Bay. But, taking a drive from Motueka to Takaka, reveals a beautiful valley hidden at the bottom of a winding pass.
From Motueka to Takaka on State Highway 60, takes just over an hour in most good weather conditions. The area's so beautiful that fans of The Lord of The Rings might recognize it. Especially, Takaka Hill, one of New Zealand's longest. From up there, you can look back over towards Nelson, and then clear across the valley that houses the plains of Takaka. Certainly, it's not a trip to rush if grabbing some Instagram shots is your heart's desire.
Takaka – the  gateway to Golden Bay and more
Goldenbay NZ reminds visitors to New Zealand why they shouldn't leave the area off their itinerary. They mention the Kahurangi National Park with the Arthur Range, and Cobb Valley. Then, there's the Takaka River which "runs north for 70 kilometers [43 miles] joining with Waingaro River just south of Takaka township." People enjoy swimming and trout fishing there.
But, that's getting ahead of the initial impression of Takaka itself. As you top the pass on the road from Motueka, suddenly a beautiful valley opens up below. There, you see fields, orchards, houses, neat homes, and the distant coastline. Kayaking, lagoons to explore, horse riding, amazing coastal rock formations, forests, and hiking are all accessible from the town. And, don't forget the stunning Waikoropupu Springs you pass on the way there.
Where to stay and places to eat in Takaka
The town and surroundings offer accommodation for all budgets. From B&B's to luxurious hotels, through to basic rooms, and even camping, you won't experience a problem finding a place to fit your wallet. Actually, you'll find backpacker hostels, and lodges with comfortable furnishings in the area. Then, Takaka Camping and Cabins is a popular place to pitch or rent a tent.
Of course, vacations also include enjoying the cuisine. Obviously, many lodges and motels provide meals in Takaka. New Zealand nosh is fine for the average western tastes. If you look for a traditional Maori Hangi, try and fit that in on a tour trip when in Nelson. But, the offerings in Takaka won't leave you starving. The Wholemeal Cafe offers healthy European-style food with vegan and gluten-free options. If it's a meat dish you're after, try The Brigand for their ribs. Mind you, they serve a delicious seafood chowder as well. Takeouts and good food outlets are plentiful in the town.
Explore Takaka and surrounds in Golden Bay
Takaka's one of those trendy towns where a stroll around brings almost a hippy atmosphere. Brightly painted mural walls and arts and crafts outlets abound. When you're done with art and culture, enjoy the nightlife at the Mussel Inn. There, live music keeps the spirits up. If you feel energetic, you can go out and do some climbing on the limestone at Paynes Ford.
The beach in New Zealand is never far away, and a string of coves and lovely blue water dots the coastline. Amazing rock formations make it more interesting. And, for the conservation-conscious, in places, the dunes are carefully preserved. Combine your love for animals and the beach with a horse ride. Or, if you enjoy walking, the wildflower trails in spring are spectacular. Perhaps, combine your love for food with your passion for fishing at Anatoki Salmon Fishing.
Farewell Spit Heritage Site in New Zealand
Of course, Takaka's the ideal place base while you explore Farewell Spit. The World Heritage Site lies about 50 kilometers (31 miles) from Takaka. It's at the northernmost part of New Zealand's South Island and the sandspit stretches for 34 kilometers (21 miles). There, enjoy multitudes of birds.  Actually, the best way to enjoy it is to go on a tour in a 4X4. Nearby Collingwood operators go there often.
If you're the adventurous type who loves discovering secret valleys, hiking the mountains, enjoy the ocean, or even just relaxing with good food, music, and art, then Takaka's a must-do destination your next trip to New Zealand's South Island.
Remember to check back with The Destination Seeker often for more things to do and places to visit in New Zealand.