I use affiliate links on my blog. When you click on my links, I may make a commission. Thank you!
Recently, my husband and I took a flight with Southwest Airlines from Tulsa to Denver. We also took a return flight back. When booking flights, this was my first time to book with Southwest Airlines. Booking was simple, but I didn't understand priority boarding, but I will explain more on that later. I actually booked the only flights I could find without a layover. This made for a simple flight that was less than an hour and 15 minutes one way. It was such a quick trip!
Flying Southwest Airlines
We were a bit nervous about our flight considering just one week before it was planned, Southwest Airlines canceled over 1,000 flights. Lucky for us, our flights went through without a problem. Nothing was canceled and our flight return home was delayed by only 7 minutes. It was a great experience!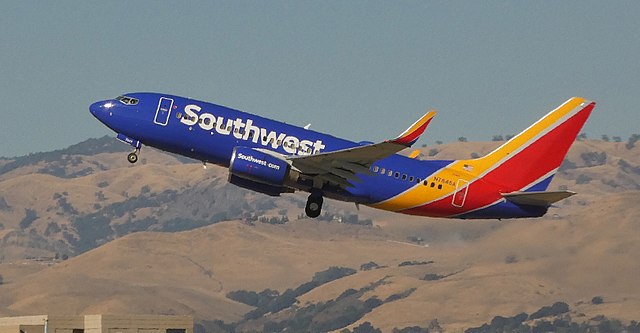 One thing to know about booking with Southwest Airlines is that you will be given a number, which is your order for boarding. They do not actually give you assigned seating so if you want to sit by someone make sure you do priority boarding! We didn't do this and on the way there we were very lucky that we even got to sit by each other. Next time, I will pay an upgrade for priority boarding. It looks like you can get these for as little as $10, but sometimes they cost a lot more so just watch the site for upgrades!
They actually board in three groups, which are A, B and C. You also get a number in that booking section. This is the order in which you will get on the flight and get to pick your seat.
They have changed up the beverage service on Southwest Airlines due to Covid19. They only offered five various drinks and you were able to pick between these. The airline also passed out small bags of snack mix. These were all complimentary. They didn't even offer anything you could pay extra for.
Would I Fly Southwest Airlines Again?
If we are looking for a flight in the future, I will gladly fly Southwest Airlines again! We were able to fly to Denver and back for two people for around $400! It was a great price for a short flight that went great. We will be looking at Southwest for our upcoming flight to Disney World!
Have you ever flown Southwest Airlines? What kind of experience did you have? Share your thoughts in the comments below.