I use affiliate links on my blog. When you click on my links, I may make a commission. Thank you!
Today we took the drive to Mannford, Oklahoma to check out Yogi Bear's Jellystone Park ™ Camp-Resort at Keystone Lake. For months, I had seen this on various social networks and knew we wanted to check it out. It was worth the trip, but not sure we would go again.
First off, it costs $17 per person for a day pass. We were able to pack a lunch in an ice chest and take our own drinks, which saved so money. The only other thing we bought was a snocone that was $4. They only had one size available.
Keystone Lake has several things to offer including fishing, boating and this park area for kids. If you were going to take your boat over and also visit the pool and inflatable obstacle course then it would be worth it for sure! We spent about four hours at the lake and the pool.
At a glance, the inflatables look like a blast. You have to wear a life jacket and swim out a bit to get there. At first, we were unsure about the life jackets, but once you fall off you will be glad you have them! We had so much fun out here, laughing at each other because we couldn't get very far and kept falling off. They had a lifeguard out on the inflatables and also two that were helping get everyone life jackets. A couple of tips for you. Before going on the inflatables at Jellystone, make sure you wear some kind of water shoes! The one person with us had a way better grip and was able to do more. Also, put on sunscreen a little bit ahead of time because slippery sunscreen and falling down don't go together!
They also have paddle boats that you can use here. I was thrilled that they didn't charge extra for these and we had fun taking them out on the water as well.
The other thing that they offer at Yogi Bear's Jellystone Park ™ Camp-Resort at Keystone Lake in Mannford is an air-conditioned pool! I have never heard of this before, but sure enough, the water was cold! They have two slides that are not deep at all as you come off of them so they are great for children. They also have an area where kids can walk around and get water dumped on them with a small slide. The pool has a basketball goal and a volleyball net. We had a blast playing volleyball!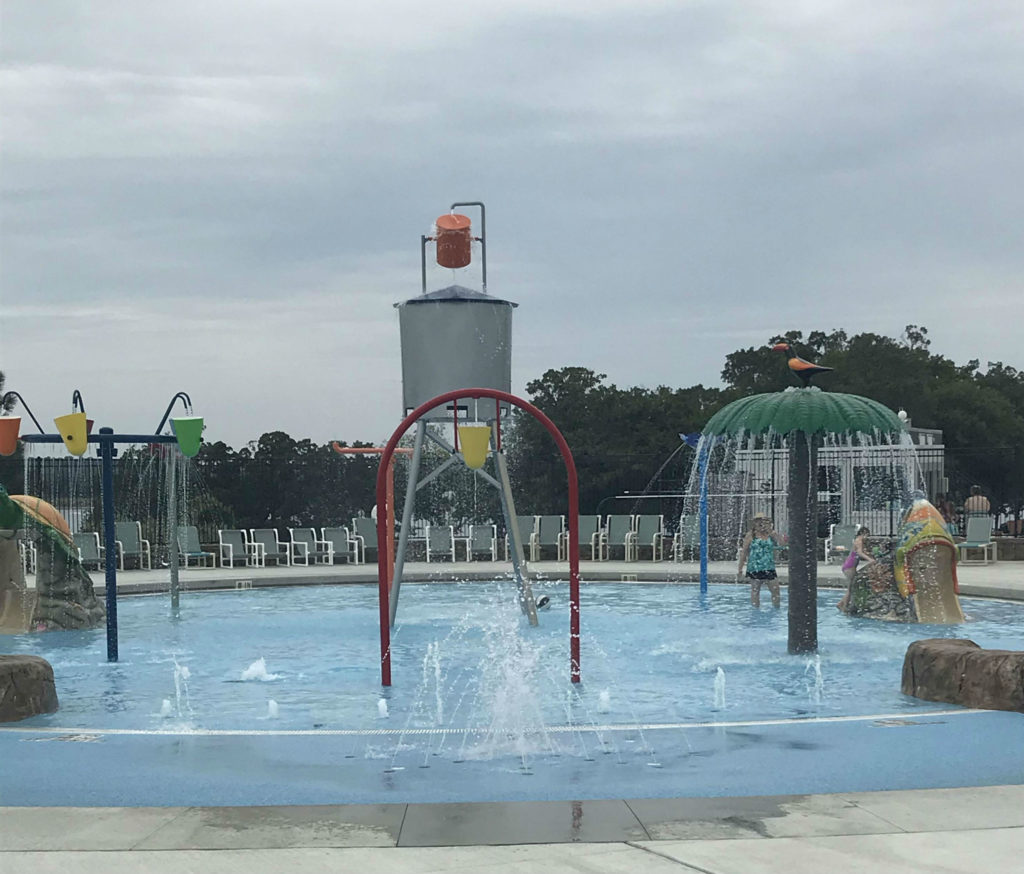 We did have one issue while we were at Yogi Bear's Jellystone Park ™ Camp-Resort at Keystone Lake in Mannford. They do have lifeguards, but they aren't guaranteed at the pool. When there was not someone at the top of the slide, kids were just going down like it was no big deal and running into people at the bottom. They do need to have someone watching this area at all times. When they did have lifeguards around, they did a great job.
If you are looking for something fun to do for the day, Jellystone is a great place to check out! We loved trying something new and the air-conditioned pool is perfect for a hot day in Oklahoma!
Have you ever been to Yogi Bear's Jellystone Park ™ Camp-Resort at Keystone Lake in Mannford? What did you think of it? Let me know in the comments below!