I use affiliate links on my blog. When you click on my links, I may make a commission. Thank you!
Tourists attending any of the special Qatar sporting events, including the 2022 FIFA World Cup will find that Qatar has more to offer than a great fan experience. Qatar has a lot of art, great food and some beautiful natural spots, including a birdwatcher's paradise. Come for the sports, but make sure you take in all the pleasures that Qatar ha to offer! What are the top things to do in Basta, Qatar during the 2022 FIFA World Cup?
What To See in Qatar
Museum Of Islamic Art
Between the beautiful architecture of the modern  building and the 1,400 years of art, the Museum of Islamic Art  is a wonderful way to spend the afternoon. The collection includes textiles, ceramics and manuscripts. This is considered one of the best collections in the world and worthy of an afternoon of exploration.
Sheikh Faisal Bin Qassim Al Thani Museum
Considered an "eclectic" mix of artwork, the Sheikh Faisal Bin Qassim Al Thani Museum (FBQ Museum) showcases Sheikh Faisal's personal collection of over 15,000 items. What could you find? Princess Diana memorabilia, ancient religious manuscripts, samurai armor and even an F1 racing car. This is worthy of a visit just to see what the wealthy deem valuable or interesting.
Where To Eat In Qatar
Qatar is famous for their international cuisine. You can find European and British items everywhere. But, be sure to try some food from Qatar. The local dishes are influenced by Persian, Indian, Asian and North African cuisine. Traditional food from Qatar is served family style, with multiple plates of delectable dishes. Alcohol is served at licensed bars and restaurant hotels. If you wish to enjoy an alcoholic beverage, alcohol is served to anyone 21 and over, so bring your legal identification.
The Grandest Brunch
Want something both Instagramable and the grandest brunch experience you could ever have? Then make a reservation to enjoy The St. Regis Grand Brunch. Brunch at the St. Regis is not your typical brunch experience. This is 2,000 square meters of the ultimate brunch. There is such an array of food, there is actually a map that guides guests to the appetizing array of foods.
There are 16 unique food stations, including live food stations where chefs prepare or carve food in front of guests. These are not just any chefs. They are from Gordon Ramsay's Opal and the Astor Grill. There is an array of meats, seafood, such as Razor Clams, crab legs, oysters, Gravlax and sushi. There are tempting salads and exotic fruits. But, do not forget to save some room for their scrumptious desserts.
The St. Regis serves both alcoholic libations and non-alcoholic drinks at their six bars. Please note, this is not an eat and run experience. This is an opportunity to savor and indulge. Included in the grand atmosphere is an outdoor terrace and live music. Feel free to burn off some calories and dance, then go in and sample another treat.
Cozy Cafe Experience
Should you be visiting Dohar, and need some coffee and maybe something more, Mokarabia is your place. Mokarabia is an Italian coffee bar. Not only can you get your cappuccinos and espresso, but also milkshakes and mocktails.
Visiting during breakfast? Makarabia features a decadent Chocolate Breakfast on the munu. Included is a cornucopia of chocolate delights including a croissant and other chocolate filled pastries with extra chocolate drizzled artfully on top. Of course, they serve this meal with a delicious mocha.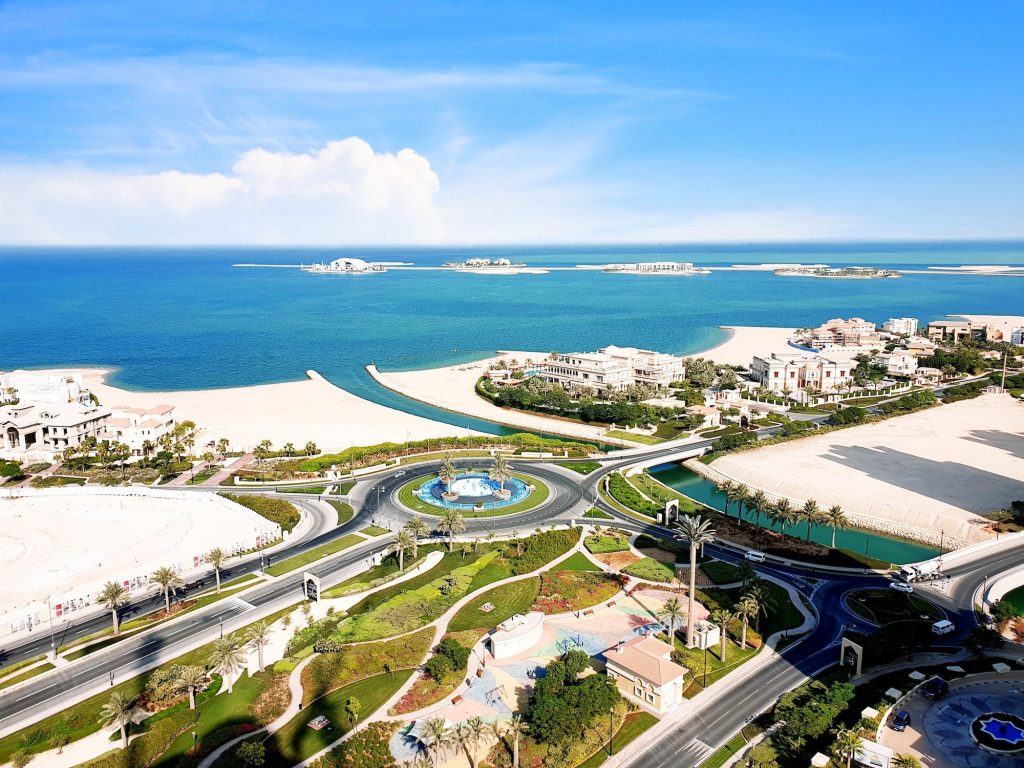 Activities In Qatar
Visiting Qatar means enjoying the unique beauty of the desert, and breathing in the refreshing coastal areas and islands. There are local activities that can satisfy all fitness levels. What sorts of activities can you enjoy in Basta?
Take A Camel Ride
Enjoy the desert sunset while on a desert safari on camel. Get picked up at your hotel and take a drive to a remote and romantic area where you switch from vehicle to camel. Here, you can explore the quiet beauty of the desert.
Al Thikira Mangroves
Not all of Qatar is desert. The Mangroves of Al Thakira is a Qatar oasis. Just north of Al Khor, this is a vast and lush ecosystem, with water and greenery everywhere. Pick up a tour at any local hotels and head over to this remarkable place by kayak. A birdwatcher's paradise, look for herons and flamingos that have been migrating to the region for years.
Explore The Inland Sea
In Southeast Qatar is the Khor Al Adaid. Translated, this is the Inland Sea. Take a trip across the sand dunes to a remarkable natural site. In the midst of the mountains of sand is water, Khor Al Adaid. The Inland Sea is a nature reserve, recognized by UNESCO. This is a gathering place of local and long-distance migrating birds, and other species, including threatened turtles. The diverse flora, fauna and marine ecosystem is unique to this area.
A special place like this requires an adventurous mode of transportation. This means an experienced tour driver will take you and your group offroading across the vast desert. You can check it out for a few hours, or go camping. Those who are astrophotographers may want to opt for the camping option, as this is an ideal place to capture the stars and other astronomical events.
Enjoy dune bashing, which is their term for trying to walk in the deep sand. There is also sandboarding/surfing, riding an ATV, swimming and fishing at Khor al Adaid.
Film City
Take a land cruiser out a few hours from Doha to a standing Arabian film set. This is Al-Rayyan, also called Film City. This is a ghost town and the city was built up for the  Arabic TV series "Sons of Wolves This is a unique venue to explore and photograph.
Sushi Class
Why not take a sushi class at Nobu Doha? This is a spectacular location, overlooking the Arabian Gulf besides Four Seasons Doha. Here, design meets food. Held on every first Saturday of the month, attendees get to learn how to make sushi by the best. This includes Maki and Temaki, Nigiri. When you are done with the masterclass, you can go home and replicate these incredible dishes.