I use affiliate links on my blog. When you click on my links, I may make a commission. Thank you!
When it comes time for a trip to Las Vegas, you know that you will be spending some money. The plane tickets can get pretty expensive, but we fly with Allegiant Air and save a lot before we even leave home. There are a few ways to save money once you get to Las Vegas though and that is by taking advantage of all of the great free things to do! Here are my top 10 things you can do in Vegas for free.
Fountains of Bellagio
The Fountains of Bellagio are an amazing site that you do not want to miss. These fountains do their own little show that is set to music and full of color. This show is daily in Las Vegas and they happen every thirty minutes. The hours are as follows: "You can see the fountains from 3 pm to 8 pm Monday through Friday and every 15 minutes from 8 pm to midnight. On Sundays, the show starts at 11 am every 30 minutes until 7 pm when the show goes on every 15 minutes until midnight. On Saturdays and Holidays, the shows start at noon every 30 minutes and change to every 15 minutes at from 8 pm to midnight."
Freemont Street Experience
You will have to go downtown to see the Freemont Street Experience, but it is a must when looking at free things to do in Las Vegas. There are street performers everywhere as you walk along to the different shops and casinos. Sometimes they even offer free concerts on Freemont Street. You can walk along and look up at The Viva Vision screen which is made up of 12.5 million energy-efficient LED lamps. This is 1,500 foot long and they have shows every hour that last about six minutes.
Check out M & M World
As you are walking down the strip in Las Vegas, you will run into M&M World. This is a great photo op and a free place to see in Las Vegas. You can check out all of the memorabilia and even get a picture of yourself with a huge M&M before you head home. If you want to spend some money while you are there, you can get personalized M&Ms to take home. Just be careful that they don't melt in the hot Las Vegas sun.
The Volcano at The Mirage
If you go in front of The Mirage Hotel in Las Vegas, you can see their amazing volcano show. Nightly at 7 p.m., 8 p.m. and 9 p.m. you can actually see it erupt. Once in a while, these times change due to weather and other things such as high wind, but you do not want to miss The Mirage volcano when you are in Las Vegas looking for something free to do.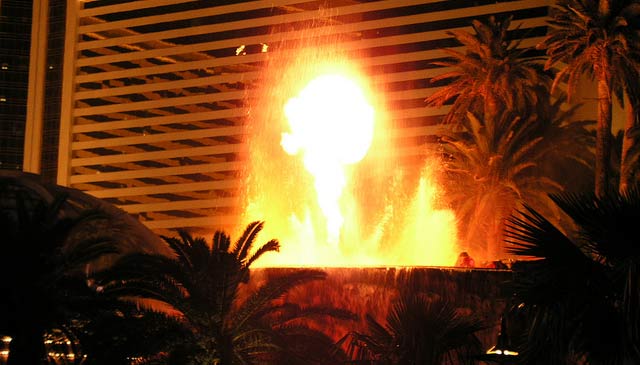 Visit Venice at the Venetian 
If you have never been to Venice, Italy, then you can see a bit of it by walking through the Venetian Hotel in Las Vegas. Inside you will look up and the clouds painted on the ceiling look just like the sky. They also offer Gondola Rides at a price, but just walking next to them and visiting the shops is enough to make you feel like you are in Venice.
The Wildlife Habitat at the Flamingo
If you love animals, you want to visit The Wildlife Habitat at the Flamingo in Las Vegas. This is the type of thing they could charge to get into, but instead, they offer it totally free. They have a beautiful flock of Chilean flamingos, swans, flamingos and more at The Wildlife Habitat. They feed the pelicans at 8:30 am and 2:00 pm every day. It is open each day from dawn to dusk. This is one of the best free things to do in Las Vegas.
The Cirus Acts at Circus Circus
If you just go into the Circus Circus Hotel in Las Vegas you will see the circus acts all over that are free to watch. They perform at the Carnival Midway Arcade inside the hotel. They have people who juggle, acrobats, clowns and more throughout the arcade. You will feel like you are right in the middle of a circus as you walk through this hotel.
Free Slot Pulls
Gambling can get really expensive, but if you are down on Freemont Street you can find at least two free slot pulls. Binion's and Four Queens both offer free slot pulls where you could win up to $2,500 cash with your pull. Once in a while, other casinos will offer a free play or a free slot pull, so keep your eye out for signs about these offers. You can also get free show tickets, gambling money and meals by sitting through a Westgate timeshare presentation but don't fall into that trap like we did. You can read all about my experience in my article about if Timeshare Presentation In Las Vegas with Westgate are worth the free tickets. One tip before you read it, they aren't.
Visit The Gold and Silver Pawnshop from 'Pawn Stars'
If you have ever seen the hit reality show "Pawn Stars," then you know all about this business. You can visit the shop for free and check it out, plus get a chance to maybe see one of the stars of the reality series. The thing is there can sometimes be a really long line to get in, but it can be worth it if you are willing to wait. You may get a glimpse of Rick Harrison, Corey Harrison, The Old Man or Chumlee.
It isn't free, but Groupon offers a "Pawn Stars" tour at a discount. This is a four-hour tour where you can see everything if you are a huge fan of the show.
Check out the Mermaids at The Silverton Casino
Their huge aquarium holds more than 117,000 gallons of water. Of course, you will see fish swimming around, but if you pay attention, you will see a mermaid swimming along with the fish from time to time. These swims are offered at various times Thursday-Sunday. Who wouldn't want to see mermaids swimming along as one of the best free things to do in Las Vegas?
What is your favorite thing to do in Las Vegas that is free? Let me know in the comments below! You can also enjoy spending some time in Nevada driving around!