I use affiliate links on my blog. When you click on my links, I may make a commission. Thank you!
Durban is the third-largest city in South Africa. Perched on the warm Indian Ocean coast in South Africa's KwaZulu-Natal province, it's a blend of cultural influences from India, Africa, and from its British and Dutch colonial history. Often, Durban's the launch point for exploring the land of the Zulus with its rich cultural history and Big 5 game reserves.
Durban city's an ideal stop-off before exploring the vast protected areas of iSimangaliso, a UNESCO World Heritage Site. Plus, it's a hop and a skip away from another UNESCO site, the Maloti-Drakensberg Park World Heritage Site. However, here are five good reasons why you should linger a while in Durban.
1) Explore The Golden Mile beachfront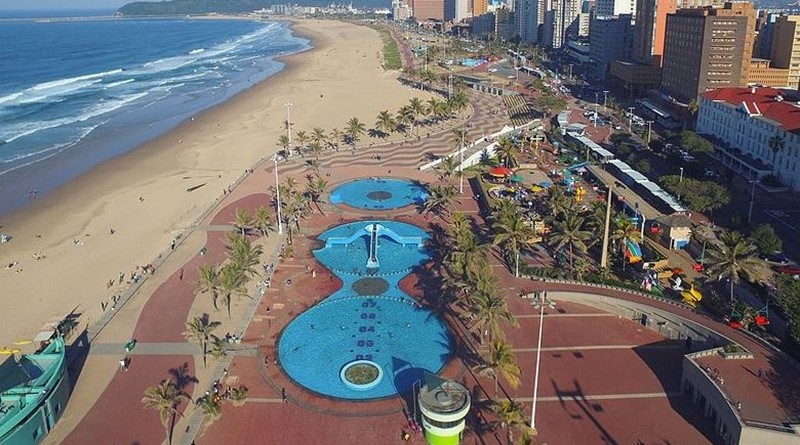 Golden Mile Durban – Image credit – JasonSmuts | Wikimedia
The Golden Mile beachfront is accessible by car or via the People Mover Buses. Actually four miles long, there's paths and walkways for cyclists, joggers, and those just enjoying access to the long beaches. Popular with surfers, kite-boarders, and sand castle creators, there's plenty to entertain you.
You'll likely come across local entertainers dancing and drumming. Plus you'll want to linger at the many souvenir stalls. No matter your food preference, a variety of restaurants will meet your needs. Durban curry's known across South Africa. Also, consider packing a picnic to enjoy at the beach or on lawns. Make your way as far the uShaka Marine World theme park, or watch the big ships rolling into one of Africa's biggest commercial harbors.
2) Fine dining and local cuisine of the delicious kind

Durban dining seafood – Image credit – PM1746 | Pixabay
South Africans enjoy their meat dishes but they also cater to vegetarians. The wide choices of restaurants mean you'll likely find one that suits you. Steak lovers agree that Butcher Boys in Florida Road serves consistently excellent quality dishes. Popular because of excellent service, free street parking, a full bar, and prompt waiter services, it's best to phone in a reservation.
If you're looking for delectable seafood and Portuguese flavors, the Mo-Zam-Bik Restaurant's also in Florida Road. Vegetarian-friendly, the menu's not confined to seafood, but you won't regret their platters of queen prawns or sampling their cashew stuffed olives. Try their peri-peri calamari and chorizo, or feast on the spicy chicken and prawn combo.
The restaurant has a full bar and waiter service and you can choose to sit outside on the deck overlooking the terrace or in the Mozambique-themed dining area. Portions are large and the wine list is not bad at all.
Needing to satisfy that sweet tooth? Locals rave about Sugarlicious. Their menu's never dull and there's always something new to try out. Famous for their range of ice creams wrapped in French macaron shells, the chocolate dips are tasty as well. Take your pick in the store and stroll along nibbling your treats, or sit and enjoy them at one of the tables outside.
3) Support local culture and enjoy a unique Rickshaw ride

Rickshaws in Durban- Image credit – Sizwe Cedric Sibiya | Wikimedia
The Rickshaw rides are part of the must do's in Durban. Generations of vacationers enjoyed the rides along the beachfront past the stalls on the route. About 20 of them remain and the operators are local Zulus. The Rickshaw rides became assimilated into their culture years ago and they maintain the tradition to this day.
The tuk-tuk type three-wheelers get drawn along by very fit-looking Zulus often dressed in their fabulous traditional regalia. Have your camera ready as they really make a pleasing spectacle.
Don't worry about looking like a 'tourist,' as even the locals enjoy their unique bit of cultural history now and then. Please be certain not to confuse the experience with a similarly named bus tour, which offers a different type of entertainment.
4) Marvel at the stunning Durban Botanical Gardens set in a tropical climate

Durban Botanic Gardens – Image credit – Wayne 77 – https://commons.wikimedia.org/wiki/File:Durban_Botanic_Gardens-1b.JPG
The Durban Botanic Gardens cover 37 acres (15 hectares). The oldest botanical gardens in Africa in Sydenham Road nurture rare plants and beautiful orchis. The sub-tropical climate brings stunning arrays of lawns, trees, and flowerbeds.
Allow at least two to three hours to stroll around, or book one of their golf cart tours. One rarity is the Wood's Cycad and so precious is it, that it's guarded around the clock. It even has a website dedicated to it. The colors continually change. Known as the world's loneliest plant, this huge cycad remains a sole survivor of a lost species.
Unless you opt for a paid tour, entrance is free and the variety of plants will keep you engaged for hours. Well sign-posted, with lots of information, it's a fun way to enjoy nature. Keep an eye out for a vast range of local birds as well. The paths well maintained, outlets offer refreshments and the coffee shop's pleasant. Alternatively, you could take along your own picnic and enjoy it near the lake.
5) Get a birds-eye view of the city and ocean from the top of Moses Mabhida Stadium

Moses Mabhida Stadium. Image credit Bluesnap | Pixabay
The massive stadium dominates the skyline of Durban city. Apart from being a state-of-the-art sports venue, it offers adventure activities as well. You can take a SkyCar ride right to the top of the huge arch. Alternatively, climb the 500 steps to reach the sky platform. However, the SkyCar undergoes regular maintenance, so it's best to check ahead if it's available.
One of the main attractions for adventurists is bungee jumping. Known as the Big Rush Big Swing, it's the tallest and featured in the Guinness Book of Records since 14 May 2011. When you jump off the platform, you literally soar out over the bowl of the stadium. You're going to free fall for 80 meters, (87 yards).
If adrenalin's not your thing, check out their website for information on events, festivals, sports games, and shows like Monster Jam.
Durban's a warm, vibrant, exciting destination
Of course, plenty of other reasons exist as to why you should linger in Durban during your African vacation. We haven't mentioned learning about the sharks, visiting the walk-through aviaries, or deepsea fishing yet. However, these 5 top reasons to stay in Durban will help you plan your itinerary.